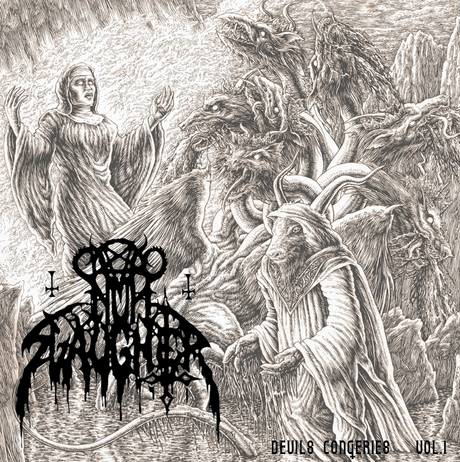 Nunslaughter, the incredibly prolific US black metal band finally get around to releasing a collection of their 7" vinyl releases all collected together on a double CD, and what a collection it is. Everything is here for the fan of old school black metal fan. Nunslaughter have an incredibly old school sound that brings to mind early Venom, Possessed and even early Deathcrush era Mayhem. The guitars sound like chainsaws, the drums and bass like the heartbeat of the underworld breaking forth from the fiery pits.
With a band named Nunslaughter, you would expect each track to be dripping with a blasphemous hate for organized religion, and that is exactly what you get. Fifty eight tracks (only 29 tracks, the first disc, was available for review purposes) of pure unadulterated raw, powerful and atmospheric black metal.
Each of the first eighteen tracks will stop the casual listener dead in their tracks. Each hymn is dripping with the blood of the slaughtered holy, bringing the music of a thousand demonic legions to the listeners ears and possessing them to make them bang their head along with the fierce aggression found here. It is a shame that track 19-29 are extremely poorly produced, but the aggression and atmosphere of pure evil certainly shine through. It's just a stark contrast to what came before that I felt the album lost some of it's punch. But that really is a minor complaint considering the strength of the material here.
The Devil's Congeries gathers together 13 out of print Nunslaughter EP's, so if any fans of the band dreamed of owning these releases, well now is your chance. The double CD will come complete with a booklet which will feature lyrics for every song, and also information about the release of the EP's they are taken from such as each EP's cover artwork and pressing information.
For anyone who is new to Nunslaughter, the band certainly do not rely on a standard 'black metal' sound to get their message across. There are no keyboards, no flashy guitar parts, no hyper speed blasts. The vocals are clear and abrasive, focusing more on screams and howls than the regular death metal 'cookie monster' guttural attack. The guitars cut through the mix, sounding incredibly thick and powerful, and the drums and bass hold the chaos in place, accentuating a heaviness rarely heard in black metal. While Nunslaughter do blast, mid paced heaviness is where their strength lies, and what makes this band so different.
All in all, The Devil's Congeries is a fantastic double album. Collecting these 7" EP's individually would cost a fortune, so it is great that they have all been gathered together in one release. If you like your metal crazy, vicious and bleeding with contempt for all religion, then Nunslaughter are definitely mandatory metal worship!
Nunslaughter's The Devil's Congeries is due for release by Hells Headbangers on July 24th 2013.
Darkest regards......Dani